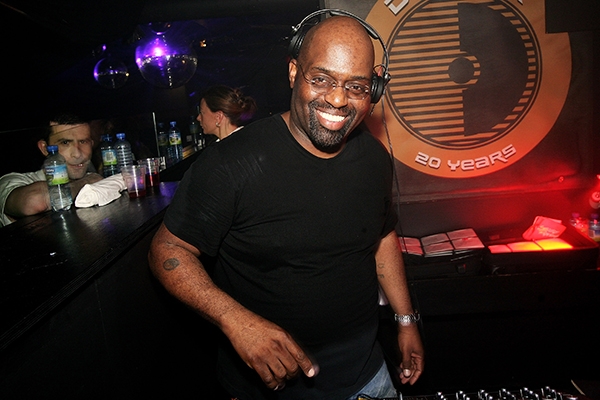 I was terribly saddened to hear about the passing of Frankie Knuckles. He literally invented house music, which has led to all of the EDM music that is so popular today.  I will never forget the times that I was able to hear him spin. His music changed my life. The following is a great article from Rolling Stone:
Ny Michaelangelo Matos:
Nobody can agree on who invented the blues or birthed rock & roll, but there is no question that house music came from Frankie Knuckles, who died Monday afternoon of as-yet-undisclosed causes at age 59. One of the Eighties and Nineties' most prolific house music producers and remixers, Knuckles is, hands down, one of the dozen most important DJs of all time. At his Chicago clubs the Warehouse (1977-82) and Power Plant (1983-85), Knuckles' marathon sets, typically featuring his own extended edits of a wide selection of tracks from disco to post-punk, R&B to synth-heavy Eurodisco, laid the groundwork for electronic dance music culture—all of it.
Knuckles made an abundant number of dance classics, including early Jamie Principle collaborations "Your Love"(1986) and "Baby Wants to Ride"(1987); "Tears"(1989), with Satoshi Tomiiee and Robert Owens; "The Whistle Song"(1991); and his remixes of Chaka Khan's "Ain't Nobody"(1989), Sounds of Blackness's "The Pressure" (1992), and Hercules and Love Affair's "Blind" (2008).
Born Francis Nicholls in the Bronx on January 18, 1955, Knuckles began hitting New York's after-hours spots such as the Loft, the Sanctuary, Better Days, and Tamburlaine—the clubs where disco was born—as a teenager, along with his best friend, Larry Philpot. By the mid-Seventies, both of them were DJs themselves, and Philpot had changed his surname to Levan. The duo worked together at two of the most important early discos: the Gallery (presided over by Nicky Siano, whose smooth on-beat mixing style was enormously influential) and the Continental Baths, a multi-room gay bathhouse on Manhattan's West Seventy-fourth Street. (Two other entertainers got their start there: Bette Midler and her pianist, Barry Manilow.)
By 1977, both started their own clubs in difference cities. While Levan (who died in 1992) helmed the Paradise Garage in Soho, Knuckles moved to Chicago, where Robert Williams, an old friend of both, was opening what became the Warehouse. A narrow building with oblong windows at 206 South Jefferson St. (today it's a law office), the Warehouse was where Knuckles began honing his sound and style—"a wide cross-section of music," as he told The Guardian in 2011. His mélange of disco classics, weird indie-label soul curiosities, the occasional rock track, European synth-disco and all manner of rarities would eventually be codified (at Importes, Etc., the record shop where Knuckles bought much of his music) as "House Music"—short, of course, for the Warehouse. (In 2004, the block where the Warehouse stood was renamed Honorary Frankie Knuckles Way.)
At a time when Saturday Night Fever had cranked up disco's profile till it blanketed pop culture, Knuckles favored the music's weirdoes and rebels. He spun tracks on independent labels like Salsoul and cheesy-exotic synth-disco from Italy. He liked things floridly dramatic and stark (First Choice's "Let No Man Put Asunder," Black Ivory's "Mainline"); he liked party conviviality (Positive Choice's wonderfully loose "We Got the Funk"); he liked genuine strangeness (Two Man Sound's heavily phased "Que Tal America"). Working with reel-to-reel tape, he'd re-edit his favorite tracks to extend the grooves for his dance floor. "It wasn't traditional disco like Donna Summer," Jesse Saunders, another Chicago DJ of the time, said in 1995. "It was really R&B."
It was also enormously influential. Chicago was a DJ town, with local radio broadcasting several mix shows starting in the late Seventies, and nearly every jock in the city bowed to Frankie. One of the city's most popular jocks was Farley Keith Williams—then "Funkin'" Farley Keith of WBMX-FM's Hot Mix 5 DJ team, and later a Chicago house hit-maker as Farley "Jackmaster" Funk. "Honestly, when I started, I didn't go out buying new records," Farley said in 2008. "I went out and regurgitated what Frankie Knuckles would play."
Knuckles was so popular that the Warehouse—initially a members-only club for largely black gay men—began attracting straighter, whiter crowds, leading its owner, Robert Williams, to eschew memberships. Knuckles left in November 1982, opening the Power Plant a few months later. Not long after that, a fast-talking young DJ from Detroit named Derrick May, who'd recently been knocked flat after hearing Knuckles for the first time, sold Frankie a drum machine to further enhance his mixes—something several DJs in Chicago (and Detroit) were already doing.
That combination of bare, insistent drum machine pulse and an overlay of cult disco classics just about defines the sound of early Chicago house music—a sound many young local producers were beginning to mimic in the studio by 1985. That year, Knuckles made his first recordings with an ethereal-voiced, Prince-obsessed singer-songwriter named Byron Walford, a.k.a. Jamie Principle. The pair's early tracks were recorded in the Power Plant DJ booth, but they soon graduated to local studios. Several of their songs together wound up released by the local label Trax Records—without the artists' permission, as both Knuckles and Principle later insisted; it's just one example of the cutthroat business practices at the dark heart of early house music.
But the music wasn't just popular in the city's clubs or party-rental spaces. Chicago house blew up in England in 1986, with Farley "Jackmaster" Funk and Daryl Pandy's "Love Can't Turn Around," hitting the U.K. Top Ten and J.M. Silk's "Jack Your Body" going to Number One in January 1987. "I remember being interviewed by a journalist in '86," Knuckles told Bill Brewster and Frank Broughton in The Record Players: DJ Revolutionaries. "And I remember telling her this music's gonna be around for a while. It's gonna take it a long time for it to get to where it needs to be at, but it'll be around for a long time."
Though the dance charts were about as far as most Chicago house titles went in their home country, house music—as well as Detroit techno, the style Derrick May was helping pioneer—not only yielded actual chart hits overseas, they fueled a new style of clubbing. In the summer of 1987, a group of English DJs—including Paul Oakenfold and Danny Rampling—traveled to the Mediterranean island of Ibiza and were turned on to both a more expansive playlist than usual, thanks to DJ Alfredo of the open-air club Amnesia, and a new drug: MDMA, or Ecstasy. Bringing that combo back to England, Rampling's Shoom club, followed by Oakenfold's Spectrum, birthed what the Brits called "raves": enormous gatherings, usually in warehouses or open fields, of kids wearing smiley-face T-shirts while dancing all night, often on Ecstasy, to house and techno.
Knuckles wasn't interested. In 1988, he returned home to New York and took on a series of club residencies—the World, the Roxy, the Sound Factory, and Sound Factory Bar (a different venue) among them—and teamed up with manager Judy Weinstein and fellow DJ David Morales (who'd filled in for Levan at the Paradise Garage) to form Def Mix Productions, a studio umbrella that altered the job description of a club remixer. Rather than simply change the arrangement or even grafting a new track onto an existing song, Knuckles and Morales would remake the source material from the ground up, even bringing the artist back in to cut a new vocal. Eric Kupper, a keyboardist and producer who worked on many of Knuckles' great Nineties recordings, said that Frankie's work "had a little more of an arrangement going on" than Morales'.
"[When] you've got someone as big as Luther Vandross and Michael Jackson sitting there saying, 'Whatever you want, however you want it, I'll stay here as long as you need me,' that's the reward right there," Knuckles said in 2011. "All the programmers I worked with were all classically trained musicians . . . I was teaching them a different side of what it is they do. Infusing certain ideas like Debussy-esque piano over a very thick house track or bass line is something that blew their minds. It blew mine, too, but it's something they never imagined and/or heard of before . . . We didn't know if it would work or not, but it did."
Though Knuckles kept up a heavy DJ schedule throughout his career, health problems, as well as the waning popularity of his type of traditionalist house music, led to his quieting down on the production front in the 2000s. In July 2008, Knuckles' right foot was amputated: He'd broken it during a 2000 snowboarding accident in Switzerland, leading to a bone disease exacerbated by late-breaking diabetes.
But that year, Knuckles' profile got a significant bump. For one thing, younger DJs and producers were discovering vintage Chicago house music, from Knuckles' tracks to mid-Nineties "ghetto house" on labels like Dance Mania. For another, Knuckles released his remix of Hercules and Love Affair's "Blind" that year—a deeply moving version that tops an already great original. Knuckles was "considered a huge risk" to work on the track, DFA co-head Jonathan Galkin said in 2011: "Is he gonna get it? He's a main room remixer a lot of times . . . So going to that guy for our indie leftfield disco record? He knocked it out of the park."
More recently, Knuckles was regularly hitting the global club and (occasionally) festival circuit—and regularly converting kids who'd never heard of the Warehouse. Exhibit A: His sizzling Boiler Room session from April 2013. "When he was defining house music, all of us were running around the Christmas tree with a fucking toy drum," went the introduction. "So show some love, show some respect—throw yourself in the dirt for Frankie!"
Read more: http://www.rollingstone.com/music/news/frankie-knuckles-godfather-of-house-music-dead-at-59-20140401#ixzz2xeArNN1J